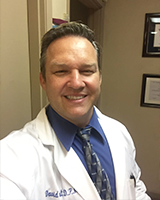 Dr. David Gent, DPM
Dr. David Gent
Click here to download Dr. Gent's C.V.
Dr. Gent completed his undergraduate degree with a BS IN Microbiology/Premed and a minor in Chemistry at BYU in Provo Utah, from where he went to Barry University School of podiatric medicine in Miami Shores Florida. In June 2002 he completed his residency in podiatric surgery and medical treatment at Benedictine Hospital in Kingston NY. In August 2002 he moved his family to Bremerton where he had been a long time resident. Dr. Gent began working with Dr. Michael Worpell at Kitsap Foot & Ankle Clinic and in October of that same year purchased the practice when Dr. Worpell moved to Indiana.
Dr. Gent is considered a friendly outgoing person; he loves his patients and his profession. His primary focus is patient care with an emphasis on making the patient feel at home in the office. Dr, Gent has extensive training in the forefoot and rearfoot surgery along with certification in ESWT, ultrasound, skin biopsy, sports injuries and custom orthotic treatment for correcting foot deformities and discomfort. Through various continuing education, Dr. Gent has kept up to date on the newest podiatric technology and treatment.
Dr. Gent enjoys spending time with his wife Maria and twin daughters Adryann and Brynnee.
---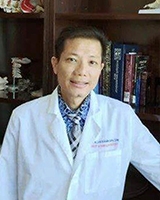 Dr. Allan Doan, DPM
Dr. Allan Doan
Dr. Doan completed his undergraduate degree with a Bachelor of Science in Psychobiology at the University of California Riverside. Dr. Doan went to the California College of Podiatric Medicine graduating as a Doctor of Podiatric Medicine in 1996. Dr. Doan completed Rotating Podiatric Residency in 1997 and Podiatric Surgical Residency in 1998. Dr. Doan was in private practice in California prior to moving to Washington in 2002.
Dr. Doan has a strong commitment to patient care and making his patients as comfortable as possible. Dr. Doan has attends continuing education training often to continue to grow and learn the newest techniques in podiatric medicine to better serve his patients.
---
Dr. Jen Joy, ND
Dr. Jen Joy, ND
Dr. Joy started with an interest in medicine from a young age because her father was an orthopedic surgeon and her mother a school psychologist. Knowing she wanted to be a doctor she studied biology and environmental sciences while finishing a pre-med curriculum at Cornell College. With forethought that medical school was going be very demanding she took a period of time away from school and worked as a ski patroller and in the commercial fishing industry on a variety of boats all over the country. A series of events led her to pursue her dream of medicine and she decided to go to naturopathic medical school at Bastyr University, her alma mater.
Choosing naturopathic medicine over allopathic medicine was based on of Dr. Joy's own personal experiences with natural medicine. She strongly believes in the naturopathic fundamental principles: the healinfg power of nature, identify and treat the causes, first do no harm, doctor as teacher, treat the whole person, wellness and prevention. With each of her patients she works to identify the cause of their conditions while leading them to optimal health with individualized treatment plans. As primary care provider Dr. Joy treats a variety of conditions including but not limited to anxiety, depression, men's health, gastrointestinal problems, weight loss and chronic disease. She uses a variety of modalities including clinical nutrition, hydrotherapy, mind-body medicine, botanical medicine, homeopathy, nutrient therapy, detoxification, physical medicine, diet and lifestyle interventions and pharmaceuticals as needed. It is not uncommon for Dr. Joy to work in-conjunction with other medical providers to provide adjudicative care for patients. Most recently Dr. Joy has started working extensively with various applications of ozone therapy including Major Autohemotherapy and Prolozone. She trained with Dr. Frank Shallenberger.
While working with her patients, Dr. Joy likes to optimize their health and revitalize their mind and body. Her goal as a physician is to provide empathetic, patient centered care. She wants to teach her patients how to thrive as individuals in this fast-paced world. She hopes to inspire her patients to be the healthiest they can be.
During her free time she can be found on the ski slopes, on the beach taking her border collie, Bailey, swimming or working on collaborative projects with other practitioners. She enjoys cooking and spends one Sunday a month cooking for the homeless in Seattle. During the summer months, you can find her hiking or on the golf course.